ART DECO STYLE SIDEBOARD FROM GIUSEPPE ANZANI, 1940S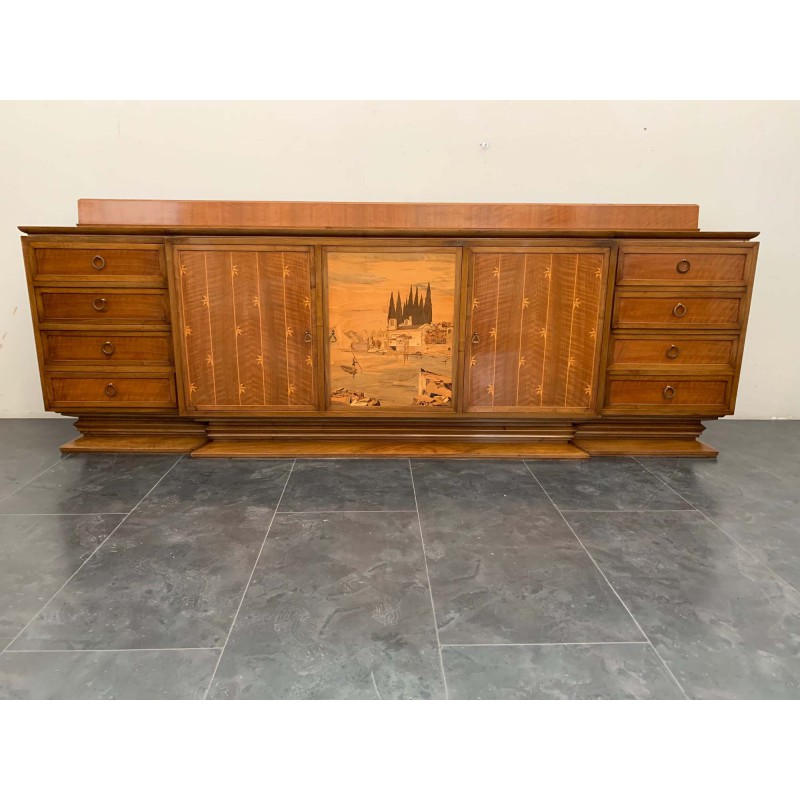 View full resolution images
Download in HD
Remove this product from my favorite's list.
Add this product to my list of favorites.
ART DECO STYLE SIDEBOARD FROM GIUSEPPE ANZANI, 1940S
Mobile credenza con cassetti e sportelli, in selezione di ciliegio, costruito con impianto di smontaggio, tre vani centrali, base e piano. 
Falegnameria di ottima qualità. Il basamento si apre accogliendo un ordine di linee che si allargano e si richiudono fino ad allargarsi nuovamente accogliendo il corpo del mobile.  Ai lati sono presenti 4 cassetti incorniciati con occhiello in bronzo al centro, seguono due sportelli con mezze stelle tridimensionali sorrette da un filetto in acero dando una squisita combinazione con la venatura del legno. Nel  vano centrale abbiamo il paesaggio di Punta San Vigilio sul lago di Garda (vedi foto paesaggio originale simile a intarsio) , intarsiata Da Giuseppe Anzani.   L'intarsio, riprede il paesaggio del lago come un dipinto, considerando i più piccoli dettagli dai mattoncini delle case, alle pieghe nei vestiti del personaggio, dal fogliame, al riflesso nell'acqua, dalle ombre e alle luci. La stupefacente e straordinaria maestria nella realizzazione dell'opera attribuiscono sicuramente il valore del pezzo da Maestro che presenta la firma dell'opera in basso a sinistra. Il piano sotto svasato riprende l'architettura della base e impiallacciato a macchia aperta, presenta una alzatina sul retro smontabile.
Interni: ben rifiniti sono impiallacciati in rovere con venatura che segue tutti i ripiani e identica negli sportelli.
Il design è da attribuirsi a Paolo Buffa che aveva una collaborazione continua con Giuseppe Anzani, oltre a elementi quali architettura del mobile e della base e mezza stella a 10 punte tridimensionale.
Giuseppe Anzani nel corso del ventennio che va dagli anni Trenta ai Cinquanta, collabora attivamente con architetti ed artisti per la produzione di pannelli intarsiati da montare su arredi realizzati su commissione.
In questo caso Paolo Buffa ma anche Giovanni Gariboldi, Ottavio Cabiati, Antonio Cassi Ramelli, Osvaldo Borsani.
Dimensioni: 300x58x98h cm.