CREDENZA BY DANTE MOROZZI & MARCELLO PIACENTINI, 1920S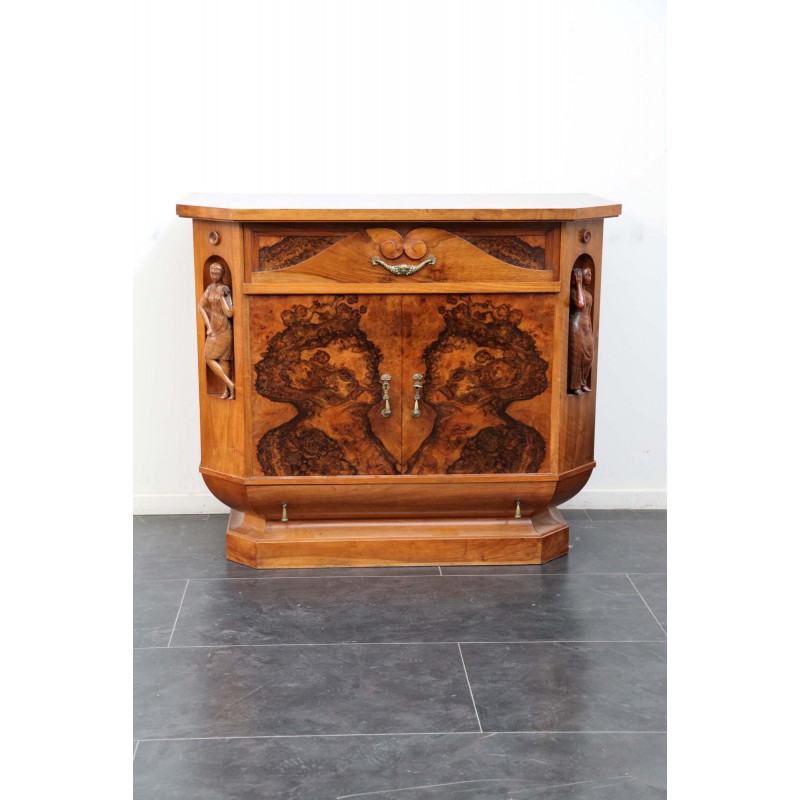 View full resolution images
Download in HD
Remove this product from my favorite's list.
Add this product to my list of favorites.
CREDENZA BY DANTE MOROZZI & MARCELLO PIACENTINI, 1920S
Credenza scultura di Dante Morozzi (Firenze 1899 - Ginevra 1965), in legno di olivo e radica di olivo.
Le fattezze riportano appieno lo stile in voga nel periodo fascista e racchiudono nelle linee morbide e monumentali, frutto probabilmente della sua collaborazione con " l'Arch. Marcello Piacentini". Ai lati nelle nicchie, le sculture femminili, scolpite a tutto tondo si propongono in maniera elegante e compatibile con il mobile, la radica è posizionata a specchiare la maniglia e i 4 pendenti sono in bronzo dorato.
In una credenza analoga presente nell' salone di provenienza del mobile ma non disponibile all'acquisto è presente la firma (vedi foto).
Il mobile ha il concetto della scultura funzionale, lo spessore delle parti fianchi, sportellie piano sono di 3cm, porta come peso sui 100kg nonostante le piccole dimensioni.
Lo scultore fiorentino Dante Morozzi, nato in provincia di Firenze nel 1899, frequenta i corsi di scultura presso la Scuola di Santa Croce in Firenze, allievo di Augusto Passaglia, perfezionando poi Molto conosciuto a Cortina d'Ampezzo anche per aver diretto l'Istituto d'Arte dal 1933, è stato soprattutto scultore, ceramista e pittore. Nel 1933 partecipa alla Triennale di Milano organizzando la mostra della Ditta Cantagalli e dal 1933 al 1941 diventa direttore della Scuola Statale d'Arte di Cortina d'Ampezzo. Dal 1935 al 1940 espone alle più importanti mostre d'arte allestite in Italia, dalla Biennale di Venezia, alla Quadriennale di Roma e nuovamente alla Triennale di Milano. Nel 1941 espone alla Galleria Il Tevere di Roma, dove presenta una ricca scelta di sculture e dipinti, e partecipa al Premio Cremona. Intelligente organizzatore, è incaricato di allestire la mostra dell'Alto Adige alla VII Triennale di Milano, presentando anche tre sue opere in legno scolpito rappresentanti la Madonna con bambino, Cristo e Cavallo, che mostrano in modo inequivocabile la sua adesione ai modi monumentali ed eroici del periodo. Sempre alla Triennale del 1940 vengono presentate dalla Scuola d'arte di Cortina d'Ampezzo delle tarsie lignee su disegno di Morozzi, elogiate da Giò Ponti per la loro "scioltezza di tono e raffinatezza di colorato chiaroscuro" (Giò Ponti in "Domus", giugno 1940). Nel 1943 partecipa alla Quadriennale di Roma. Uomo dal carattere forte, per la sua appartenenza al partito fascista e per la sua attività di delatore, viene ripetutamente contestato dagli ampezzani.
Nel 1941 vende al regime alcuni suoi colleghi antifascisti ricavandone una cattedra al liceo di Brera a Milano.
Al termine della guerra fugge dall'Italia i cui tribunali lo condannano a 18 anni di reclusione per collaborazionismo con i tedeschi si rifugia a Ginevra dove si perdono le tracce delle sua vita e delle sue attività, anche le sue attività precedenti oscurate per il passato a servizio del regime fascista. Muore a Ginevra nel 1965.
Dimensioni:  128x63x h.106